A new chamber dating back some 4,500 years has been uncovered in one of the Great Pyramids in Egypt.
The corridor measuring nine metres (30ft) long and more than six feet wide was discovered close to the main entrance of one of the three pyramids at Giza.
The ScanPyramids project used high-tech equipment to unearth the chamber which is located on the northern side of the Pyramid of Khufu.
Archaeologists are puzzled over the function of the chamber, which could not be entered from outside the pyramid.
The project has been ongoing since 2015 and on Thursday there was an unveiling ceremony attended by scientists.
Professor of non-destructive testing, Christian Grosse, said that various scanning techniques were deployed to locate the chamber, including ultrasound measurements and ground penetrating radars.
Scientists detected the corridor using advanced radiography, then collected images of it by feeding a minuscule endoscope through a tiny joint in the pyramid's stones.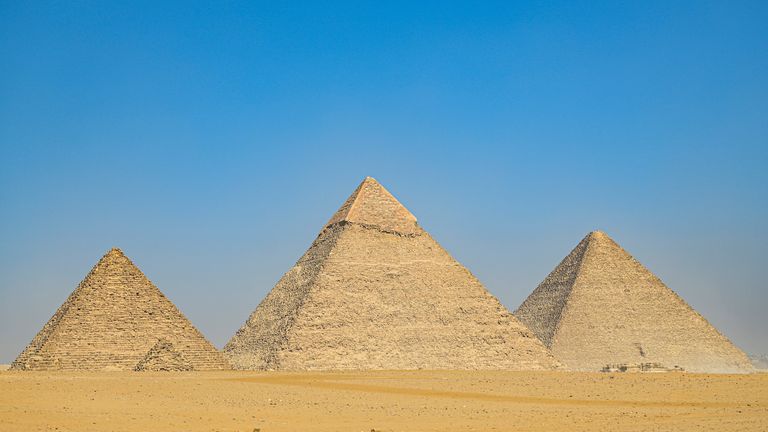 Mr Grosse said: "There are two large limestones at the end chamber, and now the question is what's behind these stones and below the chamber."
Egyptian antiquities officials said the discovery could lead to further findings.
Mr Waziri added: "We're going to continue our scanning so we will see what we can do … to figure out what we can find out beneath it, or just by the end of this corridor."
Another longer sealed-off corridor was found in 2017, again in the Pyramid of Khufu, measuring 98ft.
The Pyramid of Khufu was named after its creator – a Fourth Dynasty pharaoh who reigned from 2509 to 2483 BC – and is one of three pyramids that make up the Great Pyramids, one of the Seven Wonders of the Ancient World still standing.